What is a plantation shutter?

The answer is fairly simple: A plantation style shutter is a interior window covering that is designed and manufactured to be installed permanently into or onto a window opening for the sake of privacy and energy efficiency in a home or commercial environment.

Why plantation shutters?

This is also a pretty easy question. Plantation Shutters are one of the few window covering options that provide the right level of privacy and energy efficiency while at the same time remaining elegant for years. Plantation Shutters are the only window covering product that will actually add value to a home.

There seem to be so many choices, it's confusing.

While it may seem overwhelming, there are really only four types of interior shutters throughout the industry. Hollow Vinyl, Composite, Solid PVC, Wood. Exus proudly features 100% furniture grade hardwood shutters along with Solid PVC shutters. We feel these are the best quality, best engineered shutters in the world.

Are plantation shutters expensive?

While the original purchase price may seem higher than alternate window coverings, our plantation shutters are designed and finished to last the lifetime of the home that they are installed in. Exus prides itself in offering the most competitive price available coupled with superior quality and durability.

Do shutters come with a warranty?

While we cannot speak for all companies, rest assured that all Exus shutters come with a limited lifetime warranty on all components and a limited lifetime warranty on colorfastness on all paint finishes. It is the very best warranty available on custom plantation shutters.
Selecting Shutters
Details, details… So, how do I select the shutters that are best for me? Exus features the broadest line of options in the industry. Start by selecting a product line. All lines are detailed on this website.
Louver Sizes and Panels
The most popular louver sizes are 2 ½″, 3 ½″, and 4 ½″ louvers. Exus provides all of these plus a 1 ¼″ louver for the true retro enthusiasts. Remember, the larger the louver, the better the view.
1.25″ Louver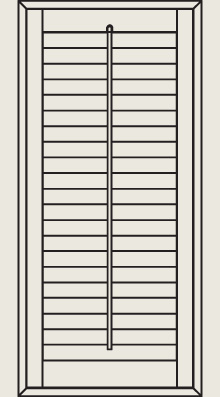 2.5″ Louver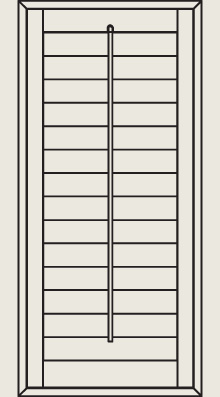 3.5″ Louver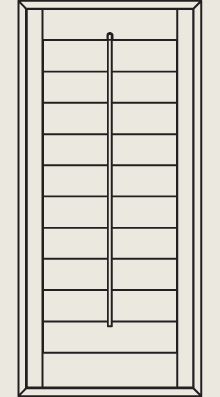 4.5″ Louver
Exus is pleased to provide shutters to cover windows up to 36″ wide using a single shutter panel. Many companies offer shutters that will not cover windows at this width using a single panel. The most popular trend is to use the fewest panels per widow possible. We will also cover windows up to 74″ tall without adding the divider rail option for all hardwood shutters.
Frame Type
Exus offers a variety of frame selections that are designed to work beautifully with all types of windows and window openings. Many shutters can install or mount inside the window opening using any of our Z-frames or L-frames. For windows that have obstructions, or function by tilting in, we recommend any of our Deco Frames or any of our L-frames mounted around (outside) of the window opening. See framing chart.
With this basic information, select your product line, louver size, and frame type. Then get ready to measure your windows! See measuring instructions.
Good Luck! We are ready to help as needed.